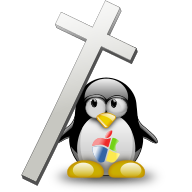 Computers
4
Christians:
as one part of the Body of Christ, we seek to lead unbelievers to an authentic relationship with Jesus and to nurture believers in discipleship. To that end, we take in
freely given
computers, load them with
Christian
software
and
media
(
as well as useful secular applications
) and give them back out for
free
to whomever requests one in an area we serve. We are based in Cheyenne, Wyoming, but
Computers
4
Christians
is needed everywhere. See
Chapters
for free information on how to start your own.
Secular Purpose:
with old computers gathering dust as individuals, government entities, churches, corporations and small businesses upgrade; the reusing of
surplus computers
makes good sense. We help keep unwanted computers out of landfills and keep organizations from having to actually pay to be rid of older technology. Once refurbished and
freely given away
; a
C
4
C
computer offers the recipient useful secular software that may enable them to better communicate with others, research, organize, find a (better) job, help their child(ren) with homework, homeschool their children, go to school themselves, start a business, etc.
Christian

Operating System:
The C4C Lubuntu ReSpin is based on Long Term Support point releases of Lubuntu (currently 16.04.2) and is

freely available and easily installable on most any computer made in the last 10 years.
Our OS is a

Christian

"respin" of Lubuntu; an easy to use, graphical

Linux

distribution that is itself a "light" version of Ubuntu (based on Debian). There are no license fees, nothing to register, and nothing to buy - ever.
You may also give this Christian OS to others.

In fact, we hope you do

.


Current Needs:
Working flat screen monitors are needed to match other hardware to make
C
4
C
computer systems. Flat screen monitors are currently our
greatest need
, but we regularly and gratefully accept freely given laptops / notebooks, towers, desktops, keyboards, mice, speakers, hard disk drives, memory and more.
We are an all-volunteer organization and do not accept monetary donations
. We are also always eager to freely advise anyone who'd like to start a
Computers
4
Christians
chapter
in their own part of the world.
Statement of Faith:
We believe there is one true God, eternally existing in three persons; Father, Son, and Holy Spirit. We believe God created all things; including all life and the world we live in. We believe the
Holy Bible
is the Word of God and it is inherent and infallible. We believe Jesus Christ is the Son of God, our Savior and Lord. We believe Jesus was born from a virgin, lived a sinless life on the earth, died for
our
sins, and rose three days later. We believe in salvation by grace-through-faith in Jesus Christ.
117 Pg - 3.5 GB - PDF