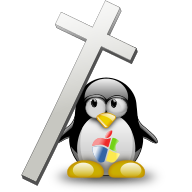 Computers
4
Christians
seeks to lead unbelievers to a relationship with Christ and nurture believers in discipleship. We take in
unwanted
computers, load them with Christian
software
and
media
(as well as useful secular applications) and give them back out for
free
. To learn about starting a
C
4
C
in your area, see
Chapters
.
The
Christian
operating system we load on computers
is based on Long Term Support (LTS) point releases of Lubuntu; currently at version 16.04. Both 64-bit and 32-bit versions are freely available and installable via DVD or USB. There are no license fees, nothing to register, and nothing to buy - ever.
You may also give this system to others.

In fact, we hope you do

.



We believe there is one true God, eternally existing in three persons; Father, Son, and Holy Spirit. We believe God created all things; including all life and the world we live in. We believe the Holy Bible is the Word of God and it is inherent and infallible. We believe Jesus Christ is the Son of God, our Savior and Lord. We believe Jesus was born from a virgin, lived a sinless life on the earth, died for our sins, and rose three days later. We believe in salvation by grace-through-faith in Jesus Christ.
117 Pg - 3.6 GB