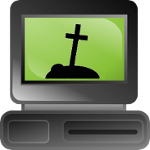 OPERATING SYSTEM (OS)
The
Operating System
(OS) is what makes a computer useful to the user. The OS is the layer between hardware (a computer) and software (graphics programs, web browsers, games), and manages both.
The
C4C Lubuntu ReSpin
is an easy to use
Linux
distribution that combines power and simplicity.
Lubuntu
is a "light" version of
Ubuntu
using the
LXDE
Desktop Environment.
Read
Make Use Of's

"The Best Linux Distributions" by Angela Randall.

User Guide
132 Pg - 5.6 MB - PDF