INTERNET
Firefox There are a lot of Internet web browsers available, but none as configurable, extendable, or one might say personable as Mozilla Firefox. It's open source web browsing at it's finest. Mozilla is a non-profit organization dedicated to making your experience on the web whatever you want it to be.


Add-Ons
Firefox has thousands of add-ons available [categorized and searchable on this
website
]. Extend it's capabilities, theme it, make it work the way you do. C4C only installs one add-on by default; the
FoxFilter
parental control.
Bookmarks
Bookmarking a web page is as simple as selecting "Bookmark This Page" or pressing [Ctrl]+[D] when the web page has loaded. Alternatively, right-click anywhere on the main body of the web page to access drop-down menu selections that include bookmarking (click the "star" icon). Built-in organizing allows you to categorize your bookmarks on the fly (while you're browsing). Hit the "Choose" selection to save in a pre-existing category (C4C loaded-up Firefox with hundreds of categorized bookmarks already), or select "Organize Bookmarks..." to use the "Library" where you can organize and re-organize bookmarks anytime. Backup, restore, import, export, add, delete, rearrange... You can also try one of the many
bookmarking add-ons
to extend bookmarking capabilities even further.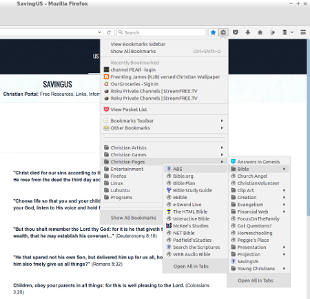 Preferences
Firefox Preferences gives you access to all sorts of settings. Control which plugins do what, what applications to use for which media type, how tabs are used, if and how your Internet activity is tracked and by whom. You can clear recent history too; over the past hour, day, week, or everything. Many more settings are available through the
Preferences
.
Search Bar
By default, the top search engine is DuckDuckGo. But, this is easily changed and or rearranged with other searches. Click the icon to the left of the search box to switch to one of the other preset options, or choose "Manage Search Engines" to get many more choices. When you begin typing into the search bar, a dropdown menu of filled-in suggestions (based on popular searches from other users as well as your own search history) will appear. If you see one that fits, click it with your mouse.
RSS
RSS Add-Ons
and
How to Subscribe to News Feeds and Blogs
.
The source code of Firefox is available under various free and open source licenses. Most of it is available under the Mozilla Public License 2.0 (
MPL
).
More Firefox: About Mozilla, All Add-ons, Contribute, Customize, Duck Duck Go, Extensions, Firefox-Ubuntu, FoxFilter, Getting Started, Keyboard Shortcuts, Linux Tagged, Make Firefox Faster, Multi-Process E10S, Search Tools, Support and Themes

FileZilla
client software is a fast file transfer client supporting FTP, FTP over SSL/TLS (FTPS) and SSH File Transfer Protocol (SFTP). FileZilla features bookmarking, drag and drop, HTTP/1.1, SOCKS5 and FTP-Proxy support, resume and transfer of large files, remote file search and IPv6 support.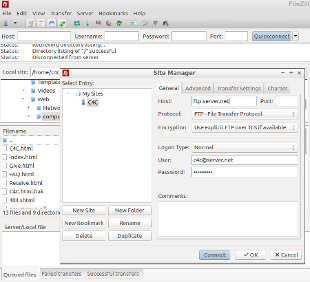 FileZilla is free and open source software licensed under the
GPL
. Learn more about FileZilla on it's
homepage
and check out the FileZilla
Documentation
. Also see FileZilla's
Forum
and
Wiki
.

Gufw
A Firewall is your first line of defense from outside attack on your computer. Thankfully, most any *buntu (U/X/Lubuntu) comes with a firewall;
IPTables
. The firewall is not turned on; that is for you to do. IPTables is managed (via command line) by what's called
UFW
; Uncomplicated FireWall. To make it even more uncomplicated C4C includes
Gufw
for a nice graphical user interface. Gufw is free and open source software licensed under the
GPL
.

Pidgin
is a
Messaging/Chat client that can simultaneously connect to a very wide range of services. Out of the box, Pidgin supports AIM, Bonjour, Gadu-Gadu, Google Talk, Groupwise, ICQ, IRC, MSN, MXit, MySpaceIM, SILC, SIMPLE, Sametime, XMPP, Yahoo! and Zephyr. Even more services are available with plug-ins. Pidgin also supports several native features of the other IM services; like buddy icons, smileys, typing notifications and file transfers. Pidgin is free and open source software licensed under the
GPL
. Learn more about Pidgin on their website;
Pidgin.im
.

Thunderbird
features tabbed mail view, filtering, message archiving, folders, smart folders, calendar and scheduler integration, themes, personas and add-ons. You can also use Thunderbird as an RSS and newsgroup reader.
Filter
email searches based on from, to, timeline, and attachments. Open multiple search keywords and jump between result tabs.
Smart Folders
can be used to combine your Inbox, Sent, and/or Archive folders from multiple email accounts. Create a
Virtual Folder
from your search conditions and edit the name and conditions. Load emails and searches in
Tabs
; reorder emails and search result tabs and drag them to different windows.
Junk Mail
Thunderbird has extensive, adaptive "junk" mail classification(s).
Train Thunderbird

to get rid of junk by using the "junk" and "not junk" buttons on incoming emails. Then use the Junk Mail Controls to make the process of moving spam to the junk mail folder automatic.
Thunderbird also automatically blocks remote image requests unless and/or until you tell it not to, depending on the sender(s)

.
And Thunderbird warns you when you click on a link in an email that will take you to a different Web site than the one indicated by the URL.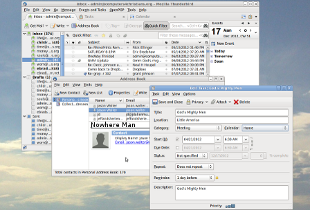 webmail
Thunderbird supports POP and IMAP. You'll likely have an easier time using webmail with a web browser like Firefox (see above). To use webmail (AOL, GMail, Hotmail, Libero, mail.com, Yahoo) with Thunderbird, you'll need the
WebMail
add-on. Or, see more Thunderbird webmail solutions on
this page
.
RSS
RSS basics
and
How to Subscribe to News Feeds and Blogs
.
Thunderbird is free and open source licensed under the
Mozilla Public License 2
. Visit the Thunderbird
Homepage
,
Wiki
and
Add-ons
Pages.

Transmission
is a lightweight BitTorrent (file-sharing) client. It offers a simple GUI interface to download
and
seed (re-upload) torrent files, torrent file
creation
, encryption, a built-in web server (to remotely control Transmission), peer exchange, local peer discovery, magnetic links, queues, automatic port mapping, DHT, NAT-PMP, UPnP and µTP port forwarding, user-controlled global and per-file bandwidth limits, simultaneous multi-line trackers and more. All this this in an easy-to-learn, easy-to-use package that has a lower memory footprint than most any other BitTorrent client available.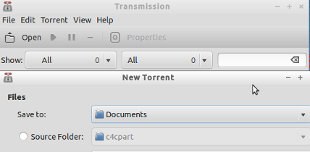 Transmission is free and open source software licensed under the
GPL
and parts under the
MIT License
. Learn more on the Transmission Project official
Homepage
. Read
How to Use BitTorrent in Linux
on TECHSOURCE. Also see the Transmission
Forums
,
Wiki
and Third Party
Add-Ons
.
(
not included, but possibly useful to you
)
BitTorrent clients Deluge, Flush, Frostwire, Tixati, qBittorent and Vuse; E-mail clients Claws Mail, Evolution, Geary and Sylpheed; Instant Messaging clients Empathy, Gajim, qutIM, SimIM and Swift; News Readers Feedreader, NewsMole, Pan Newsreader and Tin; FTP applications (and HowTos) BareFTP, FireFTP, Free Open FTP Face (FOFF), FTPServer [Ubuntu Documentation], How to Install and Configure FTP Server in Ubuntu on TechMint, Install, Configure And Secure FTP Server [vsftpd] In Linux on LikeGeeks, Install VSFTPD server in Ubuntu 16.04 LTS on OSTechnix, JFTP, Pure-FTPd, Pure-FTPD + pureadmin (FTP server with GUI) and Very Secure FTP Daemon (vsftpd); RSS Readers Blam, Liferea, RSS Guard Feed Reader and RSSOwl; and WYSIWYG HTML editors Arachnophilia, BlueGriffon, and SeaMonkey. Also see NetworkDevices on the Ubuntu Community Help Wiki.